Bimok
Welcome to happy hearts, exciting life and bright Hwacheon-gun.
Site of Bimok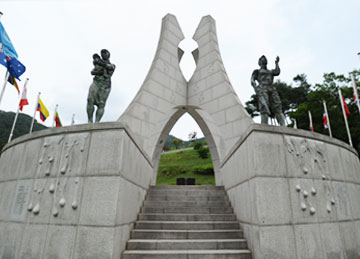 Location
Gandong-myeon, Hwacheon-gun, Gangweon-do
Contact
Hwacheon County Culture and Tourism Department (033-440-2225)
All hyanggyo (Confucian temple and schools) were burned down during the Korean War, but through the construction of the main hall and gate in the 1960s, it regained its function as a hyanggyo. Tourist attractions such as Chilseongru, Hwacheon Dam, Paro Lake, Bungeoseom Resort, Ddansan, Haesan Observatory, etc located in the vicinity.
Course Information
Hwacheon-eub → Pungsan-ri →Haesin Tunnel → Peace Dam → Bimok Park
Directions
Driving : Seoul (Route 46) → Chuncheon (Route 5번, Local Road 407) → Hwacheon → Dongchon-ri
Express Bus : Dongseoul, Sangbong Terminal → Chuncheon → Hwacheon
City Bus : Hwacheon → Daei-ri → Ddansan Pungsan-ri → Singyodae → Jangjakteo → Peace Dam
City Bus Time Chart
Related Informations
This is where the famous song, "Bimok" was born. The story begins in the mid 1960s. An officer posted at a demilitarized zone in the Baekamsan valley 14km north of the Peace Dam found a moss-ridden stone grave of an unnamed soldier. A rusty helmet, moss-covered stone grave, a white magnolia next to it and the red sunset in the deep valley: he found himself in great sorrows while thinking that the person buried in this stone grave was probably a young man like himself.
The lyric of Bimok, which honors the war heroes who died for their country, was born like this and became a famous song by the mid 1970s.
The young officer who wrote this was Han Myung-hee.
The words to Bimok are written in front of the parking lot for visitors to read. Besides the tower at the Bimok Park, there are also several wooden crosses with rusty helmets placed on top of them on the hills, reminding us of the great national tragedy of the Korean War.
Bimok Culture Fest is held at Bungeoseom (Is.) at Hwacheon-eub around June 6 of each year. Memorial services such as military songs and poetry reading, as well as tree-cutting, food-eating contests, military experience and military orchestra parades are held for four days.