Hwacheon Hwaggyo
Welcome to happy hearts, exciting life and bright Hwacheon-gun.
Hwacheon Hwaggyo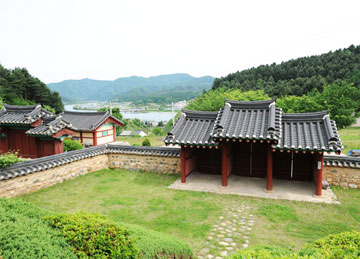 Location
Hari, Hwacheon-eub, Hwacheon-gun, Gangweon
Contact
Hwacheon Office Culture and Tourism Department (033-440-2225)
All hyanggyo (Confucian temple and schools) were burned down during the Korean War, but through the construction of the main hall and gate in the 1960s, it regained its function as a hyanggyo. Tourist attractions such as Chilseongru, Hwacheon Dam, Paro Lake, Bungeoseom Resort, Ddansan, Haesan Observatory, etc located in the vicinity.
Hours of Operation
All year round, 09:00~18:00 (9 hours)
Visitor Information
Located near Bungeoseom and Chilseongru, visitors can enjoy both historic remains and leisure sports.
Course Information
Course 1: Bungeoseom - Hyanggyo - Chilseongru
Nearby Tourist Attractions
Related Tourist Attractions: Bungeoseom Resort, Chilseongru, Hwacheongang (Riv), Ddansan
Local Foods: Buckwheat noodles, Spicy fish stew, Nancheon sausage, Fish porridge, Snail Broth, Chicken soup
Specialty Goods: Hwacheon woodcraft, Agaric mushroom, Smoked trout, Taegeuk green pumpkin, Paprica, Pyogo mushroom, cucumbers
Directions
Driving: Seoul (Route 46) ▷ Guri ▷ Cheongpyeong ▷ Hwacheon ▷ Hyanggyo
Express Bus: Dongseoul, Sangbong ▷ Cheongpyeong ▷ Gapyeong ▷ Chuncheon ▷ Hwacheon
Related Information
Most of the architectures and data were lost during the Korea War. There is a myeongryundang that has four partitions in the front and two to the side at the outer gate at the current hyanggyo. Up the stairs is located an inner gate and a main hall that has three partitions in the front and two partitions to the sides