Chilseongru
Welcome to happy hearts, exciting life and bright Hwacheon-gun.
Chilseongru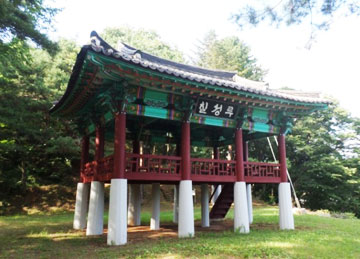 Location
Ha 1~5 ri, Hwacheon-eub, Hwacheon-gun, Gangweon
Contact
Hwacheon County Office Culture and Tourism Department (033-440-2225)
This is a famous tourist attraction together with Hwacheon Hyanggyo.
From this place, visitors can see the night scene of Hwacheon-eub and the steadily flowing Hwacheongang (Riv.) at a glance. In the center of the lake is Bungeoseom (Is.), which is shaped like a carp, and Chilseongru was built decades ago by the 7th division and has been passed down to today.
Course Information
Course: Hwacheon Hyanggyo - Chilseongru ? Bungeoseom Resort
Directions
Driving: Seoul (Route 46) ▷ Guri ▷ Cheongpyeong ▷ Hwacheon ▷ Chilseongru
Express Bus: Dongseoul, Sangbongdong ▷ Cheongpyeong ▷ Gapyeong ▷ Chuncheon ▷ Hwacheon