history
Welcome to happy hearts, exciting life and bright Hwacheon-gun.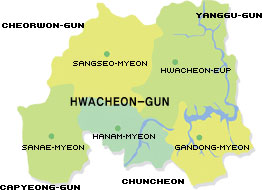 Area : 909.07 ㎢
Pop : 25,342(as of Dec 31, 2018)
Households : 12,564(as of Dec 31, 2018)
Adminsitrative District : 5 eub and myeon (1 eub, 4 myeon)
In the Goguryeo Period,
Hwacheon County was called Saencheon-gun or Yasimae, Nancheon during the Unified Shilla Period, and in the 14th year of Seongjong in the Goryeo Dynasty, it was in the jurisdiction of Yeokbangdo and as Chunjudo was established in the 8th year of Myeongjong in the place of Yeokbangdo.
It has a hyeongam in the 13th year of Taejong of the Joseon Dynasty, which then changed jurisdictions to Dojobo,
where currently Geumhwa stands in the 23rd year of Injo, and its name was changed to Hwacheon in the 39th year of Gojong.
In 1910 after the 1905 Protectorate Treaty with Japan, Haseo-myeon was divided to Hamyeon and Hanam-myeon, Sangmyeon and Seo-myeon was combined to Sangseo-myeon, and Gancheok-myeon and Weondong-myeon was combined to form Gandong-myeon. Due to the construction of Hwacheon Dam in 1941, the Gandong-myeon Office was moved from Guman-ri to Yuchon-ri, while Dongchon-ri and the non-submerged parts of Taesan-ri became part of Hwacheon-myeon.
Meanwhile, Sanae-myeon, which was under the jurisdiction of Chuncheon-gun until 1945 fell under the jurisdiction of Geumhwa-gun at the time of Korean Independence and Communist powers. After the Korean War, it was part of Pocheon-gun,Gyeonggi-do until it moved back to its current jurisdiction in 1954.
After reclamation of the land, the myeon office locations were changed in 1954. The Hwacheon-myeon office moved from Sang-ri to Seoah-ri, Sangseo-myeon office moved from Nodong-ri to Papo-ri and Sanae-myeon office moved from Gwangdeok-ri to Sachang-ri, which are their current locations. In 1964, branch offices were established in Dongchon and Gandong-myeon in Hwacheon-myeon at Guman-ri,
Gandong-myeon until 1981 when the Dongcheon branch office was closed. In its stead, Gangnam branch office was installed in Wira-ri in Hanam-myeon and in 1979, Hwacheon-myeon was promoted to Hwacheon-eub as per presidential ordinance no. 9409.
Furthermore, in 1954 the ri administrative districts were separated to construct seven new ri: Samhwa-ri from Yongam-ri, Ahnpyeong-ri from Nonmi-ri, Yongho-ri from Yuchon-ri, Dosong-ri from Guman-ri, Shindae-ri from Shinpoong-ri, Jangchon-ri from Guun-ri and Buchon-ri from Nodong-ri. Thus, the 40 ri were established and from 1961 to March 1985, the administrative ri became 41 after 18 separations, making Hwacheon have 81 ri in 1 eub and 4 myeon.