Greething
Welcome to happy hearts, exciting life and bright Hwacheon-gun.
Visit us at Hwacheon,
the "Home of Trout and Otters" where the beauty of clean nature harmonizes with
the feelings of your hometown filled with warm and innocent hospitality.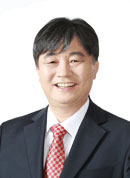 Hello, everyone!
I am CHOI, Moon-soon, a mayor of Hwacheon-gun, Gangwon-do.
I always welcome everyone who visits our homepage.
Hwacheon county has many high mountains such as Daeseong San mountain, Hwaak San mountain, Baekam San mountain, and Jeokgeun san mountain. All of them have so beautiful valleys which is filled with the cleanest and coldest stream in our country. The valley water meanders into Paro Lake and Hwacheon Lake all year round.
In addition to that, we hold 'Hwacheon Sancheoneo Ice Festival' in winter that is held in every January when our county is surrounded in the beautiful snowy scenery. In summer,
'Hwacheon Jjokbae water festival' is held in every July when the summer romance in clear water and on green fields is wide- spread in visitors heart. And we open 'Hwacheon Hwaaksan Tomato Festival' which is very famous for its best –themed family tour in the nation.
Hwacheon boasts the cleanest environment in the nation where the nature and town people coexist in harmony.
I invite you to visit us and enjoy our beautiful natural scenery and the innocent and warm hospitality.
We, the residents of Hwacheon will treat all of you and you will be welcomed anytime like our family.
Thank you.
Governor of Hwacheon County