Hwacheondongjeongsaji
Welcome to happy hearts, exciting life and bright Hwacheon-gun.
Hwacheondongjeongsaji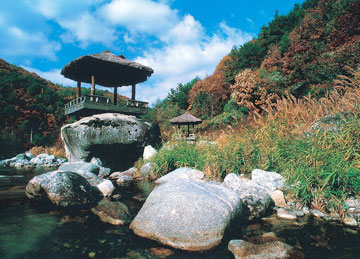 Location
Samil 1 ri, Sanae-myeon, Hwacheon-gun, Gangweon
Contact
Hwacheon County Office Culture and Tourism Department (033-440-2225)
During the reign of Hyeonjong of Joseon, who lived a seclusive life, Samil-ri became a crade for gentlemen's culture due to Gokun Kim Su-jeung, who was a Confucian teacher. Kim Su-jeung left his position and spent 30 years of his life quietly in this area. Construction started in the winter of 1689 and took almost 10 years until the summer of 1699, where he spent the rest of his life.
Nearby Attractions
Related Tourist Attractions: Beobjeongsa, Chotdaebawi, Samil Valley, Hwaaksan
Local Food: Buckwheat noodles, Boiled chicken, Raw trout, Catfish, Steamed pollack, Pork roast Specialty Goods: Woodcraft, Dodam vegetable worms, Duryu wormwood, Fermented soybeans, Hwaaksan tomatoes
Directions
Driving: Seoul (Route 47) ▷ Toegyewon ▷ Ildong ▷ Idong ▷ Sachang-ri, Sanae-myeon ▷ Samil 1 ri
Express Bus: Dongseoul, Sangbong Terminal ▷ Toegyewon ▷ Ildong ▷ Idong ▷ Sachang-ri
Nearby Attractions
The Hwaeumdongjeongsaji is valuable historical material for studying Confucianism, formative arts in the Joseon Dynasty, and history. It not only shows the ethical or philosophical aspect of Confucianism in the past but also shows how behavior and external appearances are still left in our culture.