Tample
Welcome to happy hearts, exciting life and bright Hwacheon-gun.
Cheonbulsa Temple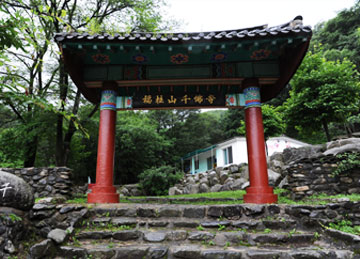 Location
Myeongweol-ri, Sanae-myeon, Hwach eon-gun, Gangweon
Contact
Hwacheon County Office Culture and Tourism Department (033-440-2225)
In the 17th year of King Beobheung of Shilla, Hyegak Jonja built Nakseoam and in the 16th year of Injo of Joseon, Hyewoong Seonsa expanded it and called it Cheonbulam. In the 31st year of Gojong (1894), it was restored and called Cheonbulsa Temple. The magnificent view of Samil Valley and Gwangdeok Valley make it a place to enjoy rest and hiking.
Visitor Information
A monument is erected in the temple on the way to the main hall.
Nearby Attractions
Related Tourist Attractions: Duryusan (Mt.), Samil Valley, Yongdam Valley, Gwangdeok Valley
Local Foods: Buckwheat noodles, Acorn-starch jelly, Boiled chicken
Specialty Goods: Woodcraft, Dodam vegetable worms, Duryu wormwood, Hwaaksan tomatoes
Directions
Driving: Seoul (Route 47) ▷ Teogyeweon ▷ Ildong ▷ Idong ▷ Sachang-ri ▷ Myeongweol 2 ri
Express Bus: Dongseoul, Sangbong Terminal ▷ Ildong ▷ Idong ▷ Sachang-ri
Related Information
This temple was destroyed during the Korean War. Afterwards, the remaining cornerstones and tiles were recovered and placed on the left side of the temple and the current temple was completed in July 5, 1980. The spirit of the old Cheonbulsa and the patriotic Buddhism is engraved in it.